Articles
Your users are stored in three groups.
Customers - your tenants
Staff - you and anyone who works for you
Organisations - any third party companies and contractors you might assign work to
Adding users
You can add users in two ways.
To add your tenant, an invite is sent to the tenant via email.
From Tenant Manager, select Tenants to bring up a list of your tenants.

From the settings menu that appears when you highlight your tenant, choose the Invite to Tenant Module option.

You can also remove access to the tenant module from this settings menu.
To add staff and organisations, log into the Tenant Module and click the green add button in the top right hand corner.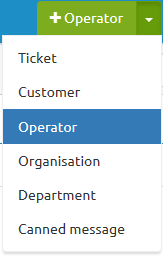 Fill in their details and click Invite. This will send them an email containing a link. Once they have clicked the link they can set up a password and log in to your account.

Failed user invites
From time to time, an invite doesn't make its way to the intended recipient. If this happens, ask them to check their junk/spam folders. If they still can't find it, you can send it again. From the users' list, click the Remove icon on the right hand side and then re-add the user. This will send the request again.