Articles
You can add your bank details to an invoice by using the Payment Instructions function in the tenancy:
Navigate to Tenant Manager > Tenancies > Select your tenancy > Edit Tenancy
Scroll down to Invoices and click on the pen icon in order to edit this section. Select Payment Instructions and then enter the relevant information in the box that comes up. This will then appear on every invoice that you create from the point of pressing Save. Historical invoices are unaffected.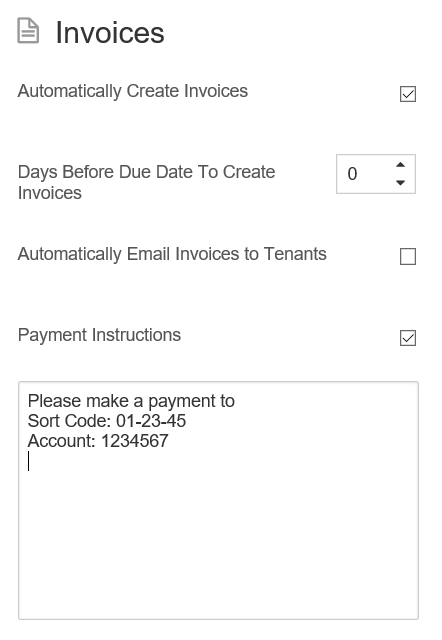 You can also set the payment instructions to apply to every tenancy that is subsequently set up in your portfolio. Go to Settings > Tenancy Settings > You now have two sections on the current screen.
The first part is called Default Tenancy Settings for New Portfolios. In here you can set up the default tenancy settings for any portfolios that you make in the future, including the payment instructions. This will not apply to any existing portfolios.
The second part is called Tenancy Settings for Existing Portfolios. In this section you can define what the default settings will be for all future tenancies created in the software. This will not apply to any existing tenancies.