Articles
Before you can account for the letting agent payments, firstly you must configure your tenancy for the agent. If this is a new tenancy, please follow the Create Tenancy guide. Otherwise you will need to amend your existing tenancy. Go to Tenant Manager > Tenancies > and select your tenant. Scroll down to Letting Agent and click the pen icon (Edit). The Edit Tenancy wizard appears.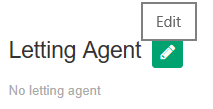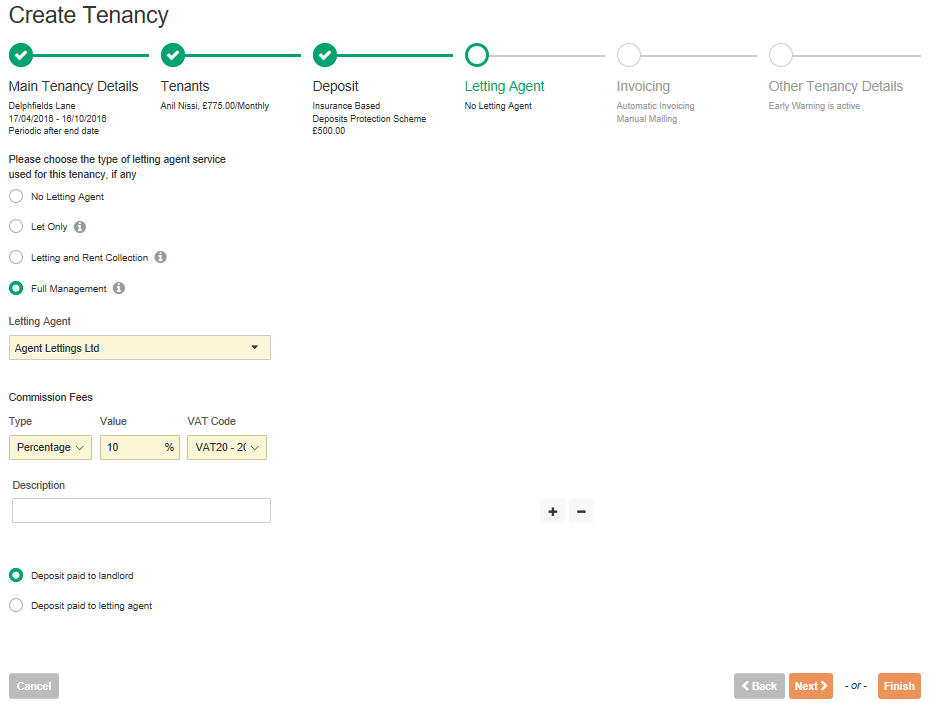 If the agent is not already entered, select the + Add Contact option in the Letting Agent dropdown box.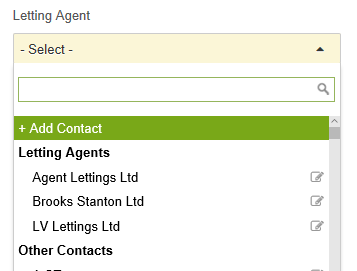 Let Only means that the agent found the tenant for you and applied a fee to the first lot of rent. To reflect this, the software will point the first invoice to the agent and deduct the fee off the payment that gets allocated to it. All further invoices and payments will be to the landlord.
Letting and Rent Collection means that the agent is responsible for all the rental payments. The software will point all of the invoices to the agent and will apply a commission fee to every payment collected.
Full Management is the same as Letting and Rent Collection, except that tenant charges will also be pointed to the agent rather than the landlord.
Don't forget to set up the VAT on the agent commission.
If your agent has different types of charges, press the + button to add more fees.
If your letting agent takes any other one-off or ad hoc fees in addition to this, see this guide.
If the Agent Charges No Commission
To make the payments go via the agent but with no commission taken off, select commission fees as above and then set the Type to Fixed Fees with the Value at £0. Landlord Vision will continue to create Agent Statements which you can use for reconciliation and for when the agent applies any other one-off charges or expenses.
Switching Between Agent Managed and Landlord Managed Tenancies
If you take over the running of your tenancy from an agency, or you have handed it over to one instead, you will need to expire the existing tenancy and set up a new one using the Create Tenancy button.
If the Letting Agent Changes the Rates
If your agent changes their prices, enter all of the payments charged at the old rate and then change the fees under Tenant Manager => Tenancies => Edit Tenancy. Any payments added from now will pick up the new fees. Be aware of this if you are editing old payments from before the changeover date.