Articles
You can use Landlord Vision to keep track of maintenance issues along with anything else you need to remind yourself of for future reference using the Tasks feature. You can find this under Calendar > Tasks.
Firstly, give the task an identifiable Name and what type of task it is (property task, social task, etc). You can define your own Task Types if you wish.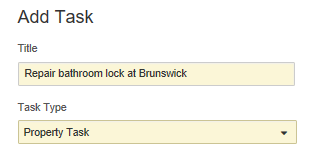 Next you can assign Tags. You can use tags to keep track of specifics relating to the tasks, so you could assign Plumbing, or Call Out Charge, or anything else you wish to search by to track what types of issues you've been having.
Also record the Property and the Contact that will be assigned. Next select the Priority.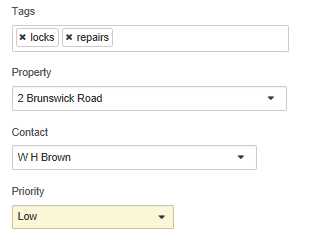 Use the Recurring Task option to remind you to do certain things on a regular basis, like property inspections.
Otherwise, set a Due Date, a Time if required and record the Status as Open.

Finally, you can enter a Description. If you use the Email Reminder to send this to someone, the body of the email is taken wholly from the description. In this scenario, we recommend you enter as much information into the Description box as possible.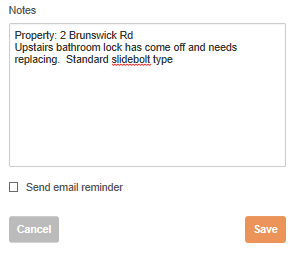 Tasks become Overdue at the end of their Due Date, or at their Due Time
Creating a worksheet
Once your task has been set up, you can then turn it into a worksheet to send to a builder or worker. On the main Tasks page, place your mouse over the task and select Create Worksheet from the cog icon menu that comes up.